Divorcing in Las Vegas After 50?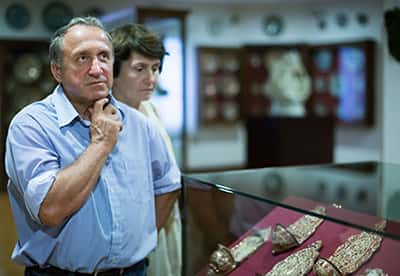 If you are divorcing in Las Vegas after 50, you're not alone. In fact you're part of a consistent pattern of older adults in Las Vegas divorces. The good news is that many older divorcees experience a significant increase in happiness post-divorce. A new-found or revitalized feeling of personal freedom is a contributing factor. This freedom can be largely based on the financial outcome of your divorce proceedings.
Reasons for Grey Divorce
A general term used to describe those older individuals in divorce proceedings is "grey divorce". Most grey divorces involve marriages of 20 years or more. So why break up when the years of raising children and advancing careers are easing up? The best Las Vegas divorce attorneys know that there is no single answer to this question. But there are many common reasons why grey divorces occur.
Older Children and Divorce
The parties' have less in common without their minor children living at home. As children age they are more involved in school, extra-curricular, and parent carpooled and/or chaperoned friend-related activities. This often results in a child-centered family unit. When the children go off to college or leave home to go out on their own, the years of child-centered relationships diminish.
Divorce is easier on older children. This is especially true when children are aware of the realities of an unhappy marriage. Children who have been exposed to years of discord often know more that they let on. They also love each parent and want to see them both living fulfilling lives.
Spouses Change Over Years of Marriage
Spousal interests have evolved in different directions over the years. Rarely do the interests of any human being remain static throughout their lifetime. So whether by choice or by circumstance, change is an inevitable part of human development. A spouse's habits and interests that are contrary to your own are less endearing after many years of marriage.
Women have successful careers and are more financially independent. Though not true in every circumstance, as a general rule women are more capable financially than in generations past. Therefore, many women have built successful careers where, in prior decades, the husband was the sole or primary breadwinner.
Feelings that life is progressing faster and faster and a new partner might bring more happiness. It is a well-known psychological phenomenon that as we age the concept of time grows faster. So, the realities of a finite lifespan and that there are more "miles in the rear view mirror than in the front windshield" contribute to a desire to make the most of what life has to offer.
Financial Stability is a Major Factor
We understand the concerns of baby boomers and seniors facing divorce. Regardless of the reason, many factors make going through a divorce later in life more challenging. Financial factors are on the top of the list. It's worth noting that younger spouses do not have easier divorces. But establishing a positive post-divorce lifestyle in one's later years depends more on the financial outcome of your divorce proceedings.
There is No Substitute for Expert Legal Representation
You must decide on what level of representation is best for your unique circumstances. Not every divorce matter, grey or otherwise, requires the high-powered legal counsel we provide. Legal representation and the associated fees should always be commensurate with what you have at stake in your divorce proceedings. If you have a lot at risk, hiring a cheap Las Vegas divorce lawyer is the epitome of "penny-wise and pound foolish." So going through divorce proceedings with inadequate legal counsel is a mistake that will affect the balance of your life.
Achieving the best outcome in your divorce matter requires expert legal advice from an experienced divorce attorney. Hoping things will just work out, or that your spouse will play fair and be trustworthy, can be an understandable mindset. But it presents an unnecessary and dangerous risk to take. Seasoned divorce lawyers know the intricate ins and outs of asset divisions, selling or dividing residential properties, businesses, stocks, retirement plans, and the critical factors for spousal support. You can use their wealth of experience to your advantage and secure the financial security you deserve.
Las Vegas divorce attorneys Jennifer V. Abrams and Vincent Mayo are Board Certified by The State Bar of Nevada as divorce law experts. Their extensive experience will provide the answers to all the important questions you have. Contact us today at 702-222-4021 for a courtesy phone consultation to see if what we offer is right for your circumstances.